Login
Log in if you have an account
Dont have an account? Register
Product details
BOARD
STORY
Foiling is so unique – requiring the finest design elements of hydro and aerodynamics. If you are only focused on lift and speed – you might be sacrificing stability or response so finding that crucial balance between the two is everything.
Hydrodynamic Visionary
The greatest mind of watersports – Herb O'Brien Born on July 27th (7/27) 1944, he is regarded as the pioneer of the modern-day compression molded waterski, wakeboard, wakeskate and wakesurfer along with
forever changing watersports footwear. As one of the main founders of Ronix, his
spirit of endless innovation will live on forever.
Aerodynamic Visionary
Herb's father, Ed O'Brien was also born on July 27th (727) 1910 and grew up in the Seattle area. Ed had a landmark run in the field of aeronautics. One of the key engineers for the B17 and B47 airplane and the Bomarc, Minuteman missile and also helped out with the 727 airplane too. He carried his methodical mind over to developing the blueprint for the most historic man made waterski mecca – Radar Lake.
In tribute to these brilliant people in their respective fields, combining the best attributes of foiling (hydro and aerodynamics) - we proudly present the series: A collection of products giving homage to two people that both lived with a
never-ending mindset of product revolutions.
FEATURES
4 points - We have been analyzing the most important needs in a proper foil board. Those would be deflection, buoyancy, tempo, and footwear.
1.DEFLECTION
When you are wakesurfing you always want contact with the waterline. That gives you the control to create leverage and speed. As we foiled more, we realized you don't want any of those qualities in your board. In wakefoiling, your angle and quickness should be coming directly from your foil. The board's job is to rebound off the water as quickly as possible allowing the mast to get back into the correct height again. We did this by creating a pronounced directional rockerline looking
to aid the take off and rebound the landing. Then we added exaggerated bevels covering the profile of the board to help displace the water as quickly / smoothly as possible
2. BUOYANCY
We found the best prototypes were the ones that would have medium rise when we were standing on them underwater. As boards got too thick it was difficult to do a deep-water start. Half the time we foil we start with the board underneath our feet in the water. If the board is too thin, you don't have enough buoyancy which won't create the feel we were looking for with the board as we were preparing to take off. Neutral buoyancy 2.0 for the flight variety is born.
3. TEMPO
The lighter board – the quicker /easier the initiation of a turn is – but if the board feels too light it will want to initiate a turn before your body does. Or vice versa – if the board is delayed from your natural movement – in either of these scenarios you have the dreaded cross up. Finding the right tempo in the shape and construction was vital. We shaped countless prototypes to figure out the balancing act of meeting buoyancy and swing weight needs – for a the right rhythm between rider and board.
4. FOOTWEAR
Straps are included - those first couple times you ride - your boat driver will thank you for using them. It's easier to get up with them while you learn to feel stable in a foiling body position.
FOIL
Fluid 28" Mast - Link 3D 39cm Fuselage - Hybrid Carbon Balance 1600 Front Wing - Hybrid Carbon Navigator 240cm 
STORY
All rise here comes the lift edition. Our tallest mast – and our biggest front wing both designed to take you higher. Manifested with a built-in metronome to keep a consistent prolonged cadence. When we set out to design this series, we were looking for an effortless turn like you are ripping powder. A fluid session will always have you feeling in control of your ride as you comfortably stand upright in a natural foil position.
This is where it all starts - the personality of your levitating experience. A proper flight begins and ends with a front wing set to your cadence and velocity.
FRONT WINGS 101
Before we tell you about our Balance 1300 Wing, let's understand the science behind Aspect Ratios and their two opposing styles. Here's a look at how our feathered friends have evolved their wings and how we mimic their world of aquatic flight.
Longer Wingspan
Longer Wingspan with a narrower depth outline allows flight over long distances without as much flapping. - Basis of Speed

Higher Aspect Ratio
As speed increases, wingspans expand, get narrower, flatter, and more streamlined at the end.
Medium Wingspan
Medium wingspan with a deeper depth outline allows a soar with reliability, while the elliptical outline creates a quicker reacting turn. – Basis of Balance

SPEED VS. LIFT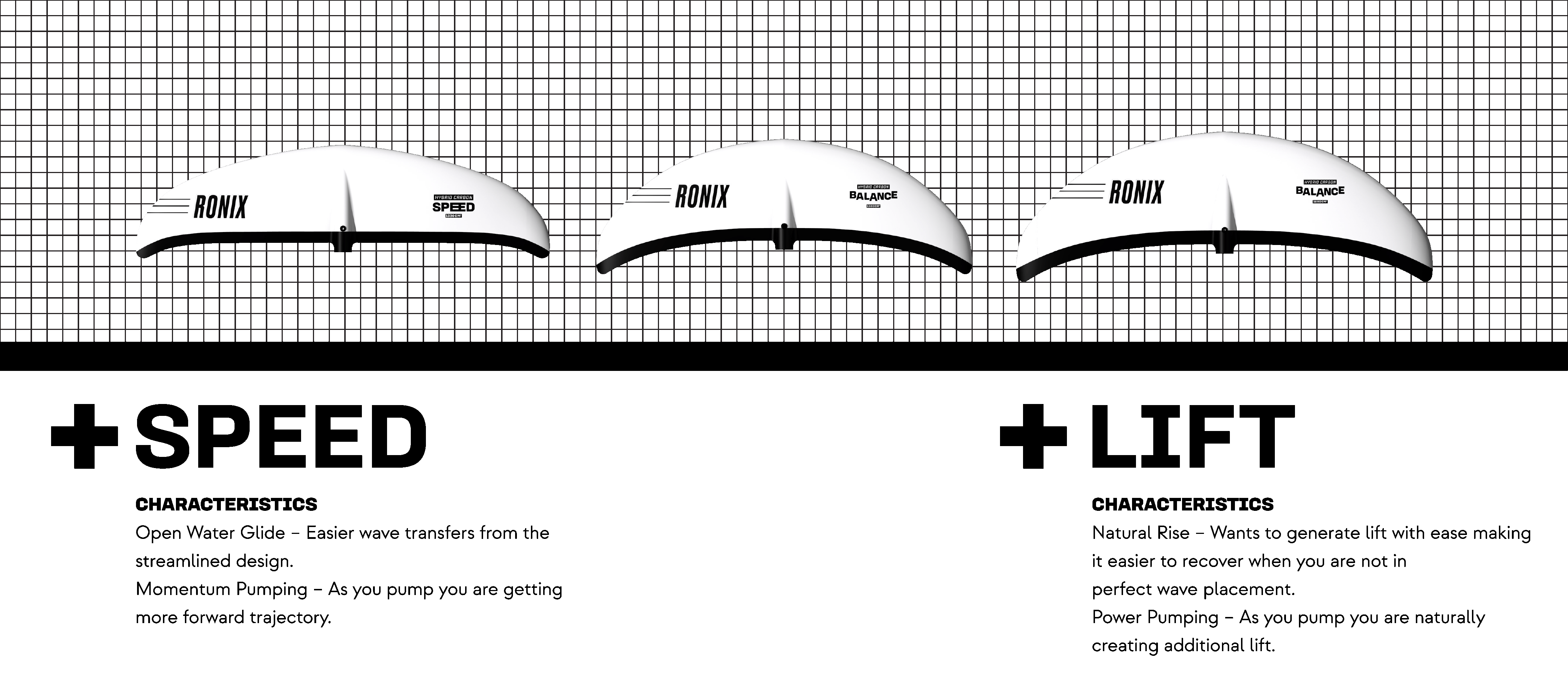 FEATURES
MODELS
- Fluid 28" Mast – Ride higher, and pump with more efficiency. The tallest mast in our range.
- Link 3D Fuselage - A high grade machined aluminum fuselage is the perfect intersection between mast, front wing, and rear stabilizer.
- Balance 1600cm2 Front Wing – This is the lift edition – the ideal size and design for somebody that wants to rise higher.
- Navigator 240cm2 Rear Stabilizer - The voice of reason mounted on the back of your Link 3D fuselage.