Login
Log in if you have an account
Dont have an account? Register
Demos & Events
NORTHLINE TORONTO INDOOR SUP RACE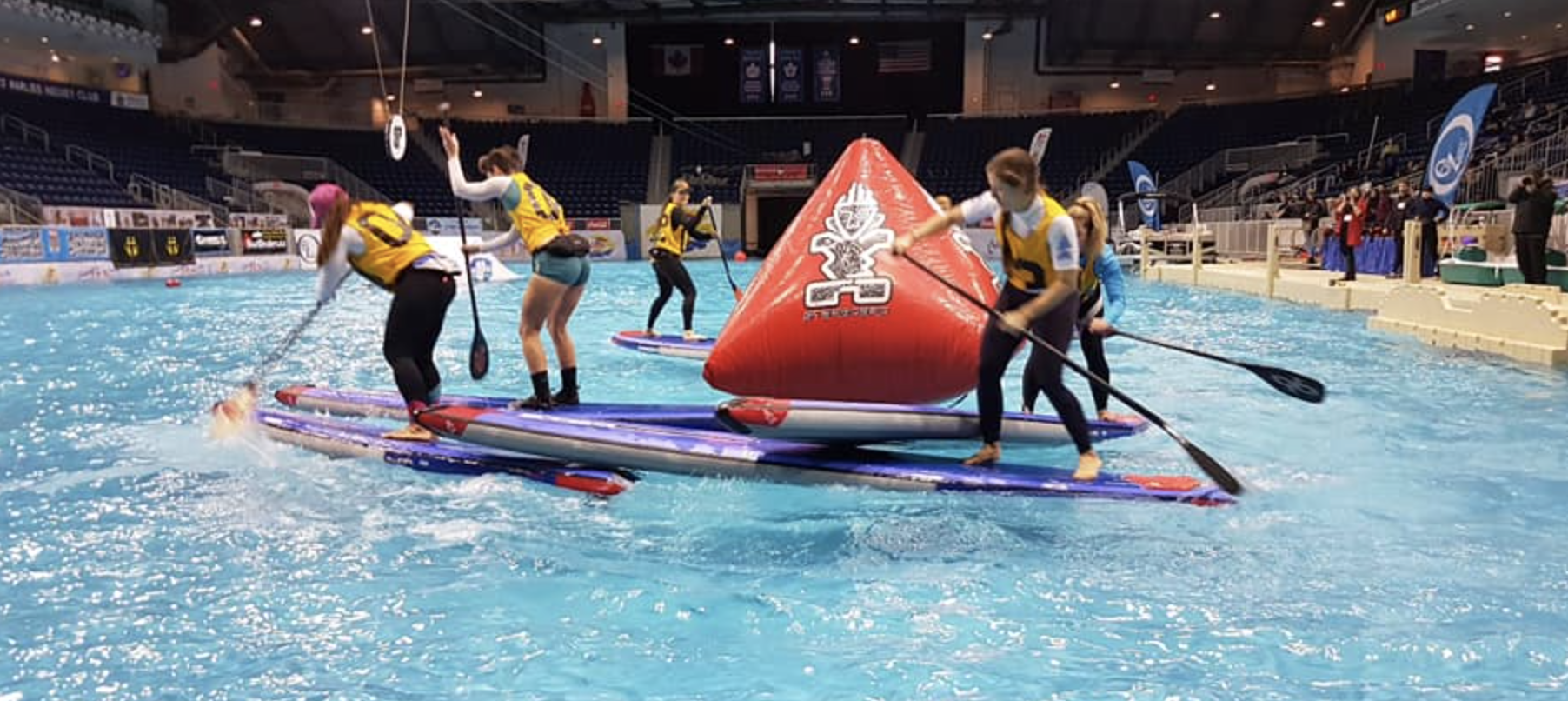 Description:
After two year pandemic hiatus, it's back! On Saturday January 28th NorthLine is hosting the Toronto Indoor SUP Race. We will be racing on the Worlds Largest Indoor Lake in front of the crowd at the Toronto International Boat Show. The event is not just about SUP racing, but having fun and being an ambassador for the sport in front of the larger Toronto International Boat Show audience.
Race Info:
- Race is limited to experienced SUP Racers. You should be very comfortable doing tight (180 degree) buoy turns. And because of the tight course, there will be (unintentional) board contact. And falling.
- All racers are competing on 12'6" Starboard Inflatable SUP Boards that will provided. Racers are required to bring their own paddles and PFDs (inflatables are ok).
- Races are held throughout the day from 10am-4pm.
- Sprint race format with up to six paddlers per race. Races will be 300-500m with 5+ buoy turns. Starting will be an onwater lay down belly start. And a paddle finish (no running). Winners of their heats advancing.
- There will be the popular Relay Sprint races at midday. 
- A couple of days before the event, competitors will be notified of their race times. Competitors must sign in 30 minutes before their heat, and be ready 10 minutes prior.
- Entry fee includes admission to the Toronto International Boat Show ($20 Value), prizes, trophy, etc.
- Contact: [email protected] or check out the Facebook group: https://www.facebook.com/groups/TorontoIndoorSUPRace/
Note: The water is pumped up from Lake Ontario and is not warmed. The water is shallow, but it will be very cold. Due to the tight course, the likelihood of falling in is high. So suit up as you feel appropriate.
Location:
Toronto International Boat Show
Exhibition Place
Coca-Cola Coliseum
100 PRINCES' BLVD
Toronto, Ontario M6K 3C3
SNOW KITE & WING DEMO DAYS:
The NorthLine Snow Kite & Wing Demo Day is an event which provides participants with an introduction to kiteboarding by flying small trainer kites (size 1-3 m2) and watching experienced kiters. We also have Wings for participants to try.
Experienced snow kiters may try larger kites with approval of a NorthLine representative after demonstrating their ability. All participants must wear helmets while flying kites. The DEMO is not to be construed as a substitute for professional instruction and we recommend you seek the guidance of a certified professional kiteboarding instructor to continue your kiteboarding progression.
WHEN: 
2023 Dates: To Be Determined
Sunday (1 - 4pm)
WHERE: 
Cooks Bay, Lake Simcoe, Keswick, Ontario
WHAT TO BRING:
Helmet, Snowboard or Skis
HOW TO REGISTER: 
Each participant must register for the Demo (ie no group/family registrations). All registrations must be done online.

Simply register by going to Snow Kite Demo Days product page, select a date from the drop down menu and Add to Cart. The demo costs $20 per person.
Don't forget to select Ship Via: "Toronto Store Pick-Up" to avoid freight charge.
*You will receive a confirmation email of your purchase, Please note that you do not need to come pick anything up in-store when signing up for a demo or event*
DIRECTIONS:
Take HWY 404 to Woodbine. Head North on Woodbine to Keswick. Turn left onto Glenwoods Avenue. Head towards the lake. We will be on the lake.
Toronto Indoor SUP Race 2023 @ The Toronto International Boat Show

Update: 2021 and 2022 Races were cancelled due to Covid. See you in 2023!